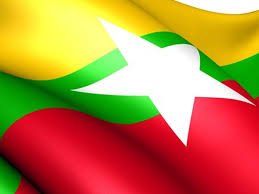 An estimated 100,000 Nagas, comprised of 12 major tribes and numerous subtribes, live in Myanmar. Traditionally, Nagas lives high in the northwestern hills, along the India border, but in recent years, many have moved to the Chin Dwin River valley.
Although they share a basic agricultural, hunting, and animal husbandry lifestyle, each tribe has developed in a unique way that can be seen in individual weaving ptterns tattoos, head-dresses, and other individualized adornments.
A proud and enterprising people, Nagas are known for their honesty and bravery. They are renown hunters and fierce warriors. Their colorful history includes the practice of head-taking, especially among enemies. Today, they cooperate in an effort to preserve their history. Education, technology, and modern transportation have improved living conditions.
Each year, in mid-January, different tribes come together to celebrate Kaing Bi (Naga New Year). Once a private celebration, it is now open to the public.
Naga Tribal Museum
The museum strives to collect and preserve artifacts and relics representative of traditional Naga cultures from all Naga subtribes.
Founded in the spring of 2004, the Naga Tribal Museum had been planned for many years. Realizing the importance of preserving their traditions, the Naga Cultural Committee, with the cooperation of the Naga people, began collecting artifacts long before the museum was a reality.
Today, the moest building stands, not only as a depository for the history and the traditions of the Naga people, it stands as a symbol of the pride and determination of the Nagas in their efforts to preserve their heritage.
The Naga Cultural Committee and the Naga people thank all who have worked to make the museum possible and extend their most sincere appreciation to its many supporters.
Reference:
Naga Cultural Committee, Naga Tribal Museum, Zee Phyu Gone village, Khamti township, Sagaing Region, Myanmar
SST Tourism Co., Ltd., 69 Myaynigone Zay Street, Sanchaung township, Yangon 11111, Myanmar